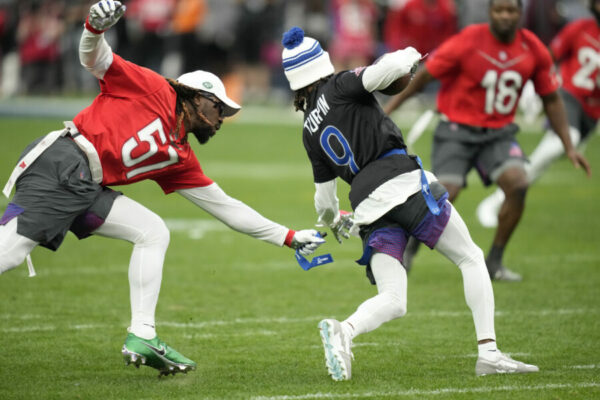 The year ended with a bang for the International Federation of American Football (IFAF) and its president, Frenchman Pierre Trochet. It was a historic year.
Last month, the 141st IOC Session in Mumbai validated the presence of flag football, the most accessible of American football disciplines, as an additional sport at the Los Angeles 2028 Games. On Saturday November 25, the IFAF held its annual congress in Paris, the first of the Olympic era.
Pierre Trochet spoke to FrancsJeux about the IOC Session's decision to retain flag football, its reasons and its prospects.
FrancsJeux: When did you learn that Los Angeles 2028 was proposing you as an additional sport to the IOC?
Pierre Trochet: We were very confident about our proposal. We tried very hard to reassure the IOC and Los Angeles 2028 of our ability to bring something new to the Games. The process was very rigorous on their part. We followed it. But nothing could be taken for granted until the Los Angeles 2028 proposal was announced a few days before the IOC session in Mumbai.
When did you really start campaigning for the introduction of flag football at LA 2028?
When I was elected president of the IFAF two years ago. The first step was to convince the NFL and our members that it was worth campaigning for. The next step was to announce our bid at the 2022 World Games in Birmingham.
What role did the NFL play?
The NFL is a very strong partner of the IFAF. Not only does it contribute to our visibility, but it also provides us with expertise in event organization. We're a young federation, so we need to quickly build up our skills in sales and events… I have to say that we're very happy to be able to count on their help.
Has the NFL been at the forefront of discussions with Los Angeles 2028?
Surprisingly, not at all. The flag football bid was put forward by the IFAF. We have a long history as an international federation. The NFL trusted us and let us move forward.
How many players will be involved in flag football at Los Angeles 2028?
Our proposal is for an eight-team tournament, with ten players in total, including five on the field, plus three to five members of the coaching staff. That means a total of 160 players. That was our quota for the 2022 World Games.
Where could you play, on which site?
Discussions begin. All options are on the table. We proposed three options: building a new site, upgrading an existing facility, or sharing with one or more other sports. The advantage of flag football is the size of the pitch: 70 yards by 25 (64 m x 23). It can be played indoors or outdoors, on rugby or American football pitches…
Is it conceivable that NFL players could take up flag football and participate in the Los Angeles 2028 Games?
Absolutely. From the outset of our partnership, the NFL has placed no restrictions on the participation of the world's best flag football players. The calendar allows it. Some NFL players have already taken the lead. But flag football today is a highly competitive sport. It demands agility. Not all American football players are cut out for the sport. But it's interesting to know that we now have just over a hundred NFL players with foreign, non-American passports. They would therefore be eligible to play for their country's national team.
How many national federations are members of IFAF today?
We currently have 74 member countries. Our ambition is to exceed 100 in the next few years. We have initiatives all over the world, in Oceania, Asia and South America. My next objective is Africa. With the NFL, we're running a flag football operation, NFL flag, focused on youth participation. I hope that by 2024 we'll be able to have international competitions in Africa.