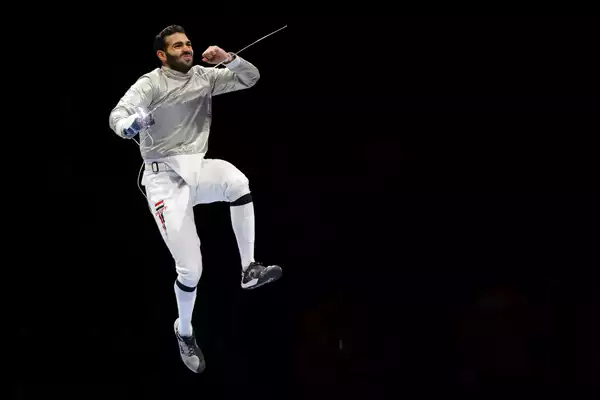 The 2023 World Championships showed it again, and the Paris 2024 Games should confirm it once more: Europe is still leading at a brisk pace, America is continuing its ascent, and Asia is picking up the pace. Fencing's three major continents took 41 of the 42 medals at the last Senior World Championships in Milan.
Africa? Making headway. Egypt, in particular, is approaching the summit. The bronze medal won this year in Milan by sabreur Ziad El-Sissy (photo above) in the individual event is proof of this. With the Paris 2024 Games less than a year away, and the 2026 Youth Games in Dakar just three years away, the continent is patiently shaping its future.
FrancsJeux interviewed Senegalese Mbagnick Ndiaye, President of the Confédération africaine d'escrime (CAE) and member of the FIE Executive Committee.
FrancsJeux: What is the current state of fencing on the African continent?
Mbagnick Ndiaye: The Confédération africaine d'escrime has 31 member national federations. But the level of fencing in the different countries and regions of Africa varies enormously. Egypt is the leading nation, with fencers who rank highly in the world rankings. Algeria, Morocco, Tunisia, Senegal and South Africa have also seen real development. These five countries regularly place athletes on the podium at African championships. The other nations practice fencing, and their athletes take part in our championships, but success has yet to come. They have set up development programs that are gradually producing results. These include Nigeria, Angola, Kenya and Togo.
Is fencing gaining ground?
Slowly but surely, fencing is gaining in popularity in many African countries. But fencing is not a cheap sport, and without the support of local authorities, it is difficult to develop. The International Fencing Federation (FIE) allocates equipment grants to all African countries every year, and helps fencers to attend training camps and competitions. But more support is needed. It's clear that in countries where the Ministry of Sports and the National Olympic Committee provide support, fencing is at a much higher level of development. At CAE, we try to organize African championships in all countries that have the facilities for such a competition. These events help to increase the popularity of fencing.
What do you miss most?
In most African countries, there are still many shortcomings. They concern almost all areas of practice and organization: the management and administration of the federation and its structures, equipment, development programs, particularly for cadets and juniors, and qualified coaches capable of developing practice at national or regional level. Nor do we have enough national competitions, nor yet a ranking system for fencers. Finally, I repeat, many countries cannot count on the support of the authorities and private partners.
What is the current priority of the African Fencing Confederation?
We want to move forward in two directions. The first is to set up strategic programs for the development of fencing in Africa. This is obviously one of our priorities. The second concerns the management of fencing throughout the continent. Top of the list is the organization of the African Championships. They will take place next year in Egypt for the cadets and juniors, and in Morocco for the seniors. In 2024, we will also be organizing the zone qualifying tournament for the Olympic Games. This will be held in Algeria. Finally, we must support the participation of African fencers in international competitions, including World Cups, Grand Prix and satellite tournaments, and of course world championships.
In 2018, the FIE opened an academy in Johannesburg, South Africa. What role does it play in the development of fencing on the continent?
A very important role, of course. It is essential for us in Africa to create a network of certified fencing coaches in each member country or region of our confederation. This is the only way to develop fencing on a large scale. Coaches from other continents are not always inclined to come and work in the underdeveloped regions of Africa. There's no money, there's a lot of poverty. Some are committed to high-level training, but discovery, initiation and initial training must be provided by local coaches. Every year, between February and November, the FIE Academy in Johannesburg organizes a training course for eight students from various African countries. It awards two types of diploma: an internationally-recognized Higher Certificate in Coaching Sciences, which enables students to work as coaches or physical education teachers; and an FIE Coaching Diploma, approved by the international federation in all three weapons. Since its creation, the academy has welcomed 46 students from 12 countries.
Will the presence of fencing on the program of the 2026 Youth Games in Dakar boost the discipline's development on the continent?
We hope so and look forward to seeing fencing once again at the YOG, in 2026 in Dakar, after having been present in Singapore in 2010, Nanjing in 2014 and Buenos Aires in 2018. Its presence on the program should further boost its popularity and encourage more young people to take up fencing. These 2026 Youth Games will be the first on the continent. They will certainly have an impact on the development of our sport.