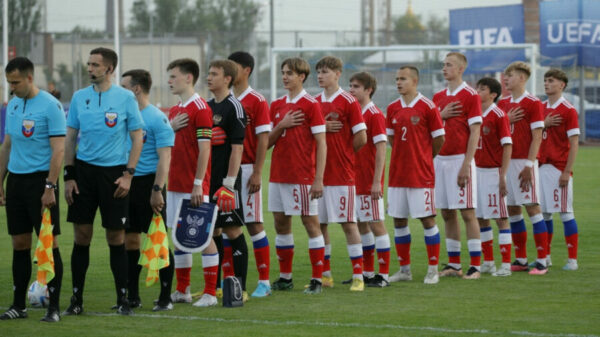 The reaction was swift. The day after UEFA announced its decision to reinstate Russian youth teams in international competitions, a wave of protest swept through parts of European football. And with it, the threat of a boycott of competitions.
Ukraine was the first to respond. Its football federation, the AUF, announced in a press release that it "strongly condemns" the European body's decision. Above all, it has already warned that it will withdraw from all competitions in which Russian teams are present, even under neutral colours and flags. The AUF is asking UEFA to reverse its decision. It is also calling on all other countries to "boycott possible matches involving Russian teams, if they are admitted."
Clearly, the Ukrainian message has been heard. A handful of other European countries have announced that they will respond to the AUF's call. They have even decided to join the boycott of tournaments involving Russian teams.
At the top of the list is Poland. Not exactly a surprise. The Polish Football Federation (PZPN) has announced that its U17 national team will refuse to take on the Russians.
Not surprisingly, Sweden also sided with Ukraine on Wednesday 27 September. But its football federation has taken things a step further by announcing a concrete decision: it will not allow Russia to take part in the European Women's Under-17 Championship, scheduled for 5-18 May 2024 in Sweden.
"We fully support the position adopted by the Swedish Sports Confederation, the Swedish Olympic Committee, the Swedish Paralympic Committee and the sports federations: Russian and Belarusian athletes should not be allowed to take part in international competitions as long as the conflict in Ukraine continues," she wrote in a statement. In May 2024, the last leg of the European Championships will take place in Sweden. In accordance with the above, we will not allow the Russian national team to participate in this tournament."
Less expected, the English FA also said it was prepared to follow Ukraine's lead. Its spokesperson explained to AFP that "English teams will not be playing against Russia."
On the other hand, Italy's position is less clear-cut and much more in line with UEFA's decision and wishes. Its football federation told AFP that its new president, Gabriele Gravina, had taken part in discussions at UEFA's executive committee meeting on Tuesday 26 September. He even took the floor to support the return of Russian youth teams to European competitions. The Italian body insists that "penalising the younger generation is not a good thing for the future or for peace."