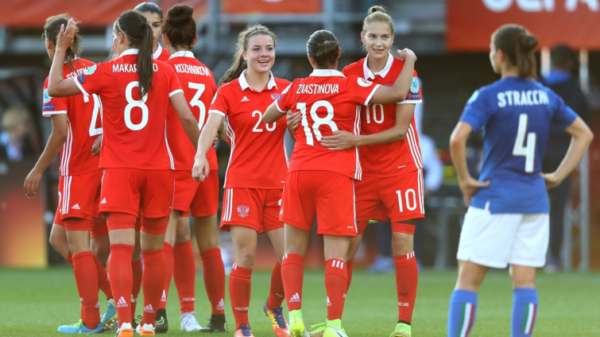 A first step. But an important one. UEFA announced on Tuesday September 26 that its executive committee had opened the door to the participation of Russian teams in international competitions. They had been suspended since February 28, 2022 due to the military invasion of Ukraine.
The European body's decision is limited in scope. It concerns only the men's and women's under-17 teams. It also includes conditions of neutrality. Russian teams will not be allowed to play in their usual colors. The national anthem will not be played before the start of matches. The flag will not be flown. Finally, this reinstatement will only be valid for competitions played outside Russia.
"UEFA is aware that children should not be punished for acts that are the sole responsibility of adults, explains the governing body in a press release. And it firmly believes that soccer should never cease to send out messages of peace and hope. It is particularly regrettable that, because of the continuing conflict, a generation of minors is being deprived of its right to take part in international soccer competitions."
UEFA also insists on the exceptional nature of its decision. It concerns only young players. "Adult" national teams remain suspended from all European competitions. Russian clubs are also still excluded.
As UEFA President Aleksander Ceferin explains: "UEFA's continued suspension of adult Russian teams reflects its commitment to taking a stand against violence and aggression. UEFA is determined to maintain this position until the war is over and peace restored. But by banning children from our competitions, we are not only failing to recognize and defend a fundamental right for their development, we are directly discriminating against them. By offering them the opportunity to play and compete with their peers from across Europe, we are investing in what we hope will be a brighter, more capable future generation, and a better future."
At the request of the Executive Committee, UEFA's administration is to look into the material conditions for the return of the young Russian players as soon as possible. It will have to propose a "technical solution" for immediate reinstatement, including for competitions for which the draw has already taken place.
UEFA's decision is anything but anecdotal. It could even set a precedent in the international sporting movement, pending an IOC decision on the participation of neutral athletes carrying Russian or Belarusian passports in the Paris 2024 Games.
By distinguishing between adult teams and those made up exclusively of underage players, the continental body is opening a breach. It suggests that "children" should not be held responsible for the decisions and actions of adults. A position that could be followed, in the weeks or months to come, by other international organizations and federations.
With such a scenario, the sporting movement could do without the sometimes rather implausible distinction between individual and collective disciplines. Still valid for adults, it would disappear for the youngest. An "investment for future generations", as UEFA suggests.