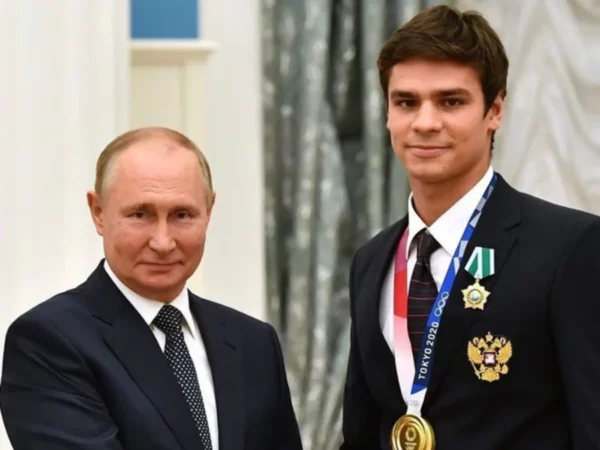 The issue of its athletes taking part in the Paris 2024 Games under conditions of neutrality has still not been settled, but Russia is doing its sums. Its Sports Minister makes no secret of the fact: they are not good. And they could get even worse as the countdown to the Olympic Games continues.
As Oleg Matytsin told the Russian press on Tuesday 19 September, the number of neutral athletes carrying Russian passports at the Paris Games will not exceed 200. The Minister for Sport even estimates a very optimistic maximum of 180 individual qualifiers.
"The forecasts remain the same, based on our athletes' participation in the qualifying competitions, he explained. We already know that it will be impossible to take part in the athletics and team sports and disciplines competitions. A statistical analysis has been carried out. It concluded that a maximum of 180 athletes could take part. But this figure changes every day. And it's not changing for the better."
Barring a turn of events, Evgeny Rylov (pictured above with Vladimir Putin) is not expected to attend. The Russian swimmer, a double gold medallist at the Tokyo 2020 Games (100m and 200m backstroke), told his country's media that he would refuse to sign a political declaration expressing his opposition to Russia's military invasion of Ukraine.
"I recently reread the recommendations (from World Aquatics), he said on Match TV. You can count on the fingers of two hands the number of athletes who meet these requirements. If I have to sign such a declaration, I will refuse. I don't want to accept their conditions. We've already done it successfully, we can do it. But it's becoming a habit. Signing the declaration is like saying that your country is bad. We're all waiting to see what happens. For the moment, we're preparing for our competitions, which will take place in Russia. I think we should only compete if we are restored to full rights. Otherwise, we'll remain neutral athletes for the rest of our lives."
Long opposed to the reintegration of Russian and Belarusian athletes, the International Swimming Federation (World Aquatics) changed its position at the beginning of the month. It announced that they would be authorised to take part in international competitions under neutral colours and flags, but with a maximum of one entry per event. To meet the conditions imposed by the body, Russian swimmers must not have shown their support for the war in Ukraine. Nor must they have taken part in demonstrations or events in favour of the war, or displayed any sign or symbol supporting the military operation.
According to the President of the Russian Swimming Federation, former middle-distance swimmer Vladimir Salnikov, certain athletes could be required to sign a declaration against the war. This would include Evgeny Rylov. He was suspended for nine months by World Aquatics last year for being seen at a rally in Moscow in support of Vladimir Putin.
The situation for Russian wrestlers is much better. Three of them, all Olympic champions, have been authorised by the International Wrestling Federation (UWW) to take part in the World Championships, currently being held in Belgrade. They too, like Evgeny Rylov, took part in a pro-war rally in March 2022 at Moscow's Luzhniki stadium.
Zaurbek Sidakov, Zaur Uguev and Abdulrashid Sadulayev, gold medallists at the Tokyo 2020 Games, have been declared eligible for the World Championships in Belgrade (16 to 24 September). The international body explained in a press release that "their participation in certain events was not of their own volition." Clearly, they were forced to attend the March 2022 gathering, organised three weeks after the start of the offensive in Ukraine.
Prior to the 2024 Worlds, the UWW removed 30 Russian athletes, coaches and officials from the delegation, deeming them ineligible due to their "active support for war based on publicly available information or confirmed military activity." The three Olympic champions, however, were allowed to take part in the competition.
"It was not possible to conclude with the same degree of certainty that they were actively and personally supporting the war and their government's policies, the body suggested. According to certain information obtained as part of the monitoring process, it appeared that these athletes were under pressure and that their participation in certain events was not of their own free will."
In Belgrade on Monday 18 September, Zaurbek Sidakov won his third world title in the 74kg category. In the final, he beat American Kyle Dake, the two-time reigning world champion.