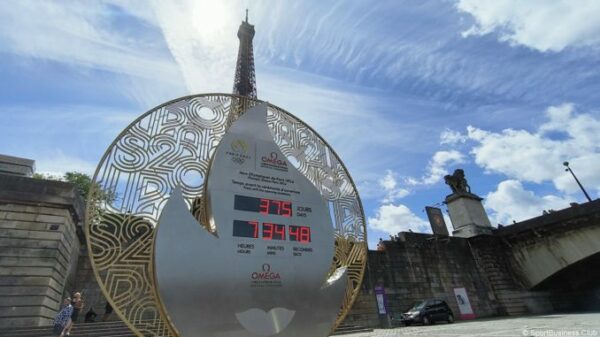 The first deadline is fast approaching. The second entered its final year of preparation at the end of July. With less than ten days to go until the Rugby World Cup, and 330 days to go until the opening of the Paris 2024 Olympic Games, French companies in the sports sector are not hiding their impatience. The opportunity is historic.
At the head of the procession is an Economic Interest Group (EIG), France Sport Expertise. Set up in November 2019, it will support French companies in their efforts to win contracts. In France, but also worldwide. Its new managing director, Paul Guiraud, answered FrancsJeux's questions.
FrancsJeux: With the Rugby World Cup this year, followed by the Olympic and Paralympic Games in 2024, are companies in the French sports economy being offered a once-in-a-lifetime opportunity?
Paul Guiraud: These two events will offer them an opportunity they've never had before. They will be a showcase for French know-how. It's a unique chance to demonstrate our expertise, while respecting our values of social responsibility and sustainability. The Rugby World Cup, like the Games, is not just about Paris and the surrounding region. Both events have an impact on the whole country. The companies in GIE France Sport expertise have taken on board these challenges. Their strength is that they offer great diversity in terms of size and activity, since they cover a wide range of sectors, from ticketing to modular structures, digital, synthetic turf and event organization. At the Paris 2024 Games, the organizers of the major international sporting events – GESI – of the next decade will all be present in one way or another.
Can the Rugby World Cup be compared to the Olympic Games in terms of opportunities for companies in the industry?
It concerns a single sport, but it will have a real impact. The expertise deployed for the tournament is applicable to most major international sporting events. France 2023 will represent an exceptional opportunity for our companies to meet foreign decision-makers and potential partners. The event lasts almost two months, involving nine stadiums and hundreds of thousands of spectators.
At the Paris 2024 Games, what will be the prime target for French companies?
The major challenge is to present a successful showcase of our know-how, both private and public. The American market is one of our targets. After France and before Australia, the United States is set to host a rather exceptional series of international sporting events, with the World Cup soccer tournament in 2026, followed by the Los Angeles Games in 2028, and finally the Rugby World Cup for men in 2031 and for women in 2033. It's true that American companies are numerous and well-established in the market. But we also have assets to strengthen our position, foremost among them the experience gained at the Rugby World Cup and the Olympic Games. At the Paris 2024 Games, we'll be looking to act as a bridge between French companies and potential American customers. Our ambition is to be an interlocutor for initial discussions. Paris 2024 will be a launch pad for the American market, where some of our companies are already present. The aim is to strengthen our presence.
How do you take full advantage of a major event – the Rugby World Cup or the Olympic Games – to win business?
The priority is to be visible. Competition is very strong in the GESI market, including in Europe, where it is notably British and Dutch. But these events will be the occasion for numerous visits by foreign delegations, and therefore meetings. Secondly, we'll be travelling with our companies to meet foreign players on their premises. The companies in the sports sector have a wide range of skills – technical, liability, communication – and are well versed in the challenges of sport. By bringing together all this expertise, our network is a strength.
How do you go about it?
Visibility depends on relationships. It's essential to get to know the players in the industry. Managers, of course, but also people in the field, operational people. You also need to be identified as an expert organization. In France, this is already the case. Internationally, it requires more work. We need to put in place a media strategy, to make ourselves better known, including in business circles. We also want to develop our relations with international federations and, of course, with the IOC.
You mentioned the United States, but have you identified other markets to explore?
We're vigilant about everything. But we're keeping a close eye on Australia, South-East Asia, Sub-Saharan Africa and the Arabian Peninsula to serve the interests of our companies.
France recently announced its bid to host the Winter Games in 2030. Could such an event also benefit French companies in the sports sector?
Of course it would. A great deal of expertise can be transposed to the Winter Games. French companies would be perfectly suited to such an event. It's always more comfortable to play at home. Wherever the event takes place, we can go there. In Europe or elsewhere. But staying close to home, in France or the rest of Europe, would also reduce the carbon impact. In the international sports movement, this objective has become a determining factor.