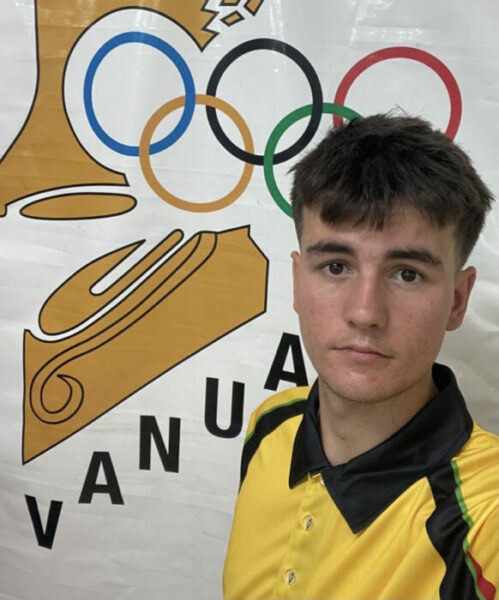 With less than 500 days to go until the Paris 2024 Games, French and Francophone influence in the Olympic movement is growing. It now takes all forms.
One example is the Generation 2024 Ambassadors programme. Initiated by the French-speaking Association of National Olympic Committees (AFCNO) and run by the CNOSF and the Paris 2024 OCOG, supported by Olympic Solidarity, every year it sends more than thirty young volunteers on civic service to national Olympic and Paralympic committees around the world.
The latest class was launched at the end of January, after a week of training at the CNOSF and Paris 2024 headquarters. No less than 28 National Olympic and Paralympic Committees, including 11 French-speaking ones, are now hosting the young volunteers for a one-year mission.
Among them, Matthieu Champenois (photo above), 22 years old, sent to a piece of land on the Oceanian continent, Vanuatu. He told FrancsJeux about his experience and his daily life in this archipelago of over 80 islands.
FrancsJeux: How did you end up working for the National Olympic Committee of Vanuatu?
Matthieu Champenois: After studying marketing and business, then six very rewarding months in an association, I applied in September 2022 for a civic service offered by the CNOSF and the Paris 2024 OCOG in a national Olympic committee abroad. I was selected. I left Paris on 24 January, to start a week later at the Vanuatu Olympic Committee, VASANOC. My volunteer mission will last a full year. 16,000 kilometres from France.
What does your mission consist of?
It was defined jointly by the CNOSF and the Paris 2024 OCOG, who are working hand in hand on this programme. My role is to promote the Olympic values and the practice of sport, particularly among young people. To do this, I have to show initiative, particularly in imagining events around sport, the Games, Olympism and the Paralympic movement. I have carte blanche from VASANOC, I can benefit from a budget if necessary, but without having too much pressure.
What events do you organise?
The most recent one, the first one that was run from start to finish, was the organisation of a Paralympic week. The Paris 2024 OCOG asked us to participate in the operation. I got involved. For a week, from 2 to 8 April, we organised conferences in a school, with a para-athlete at our side. The initiative was a real success.
What is the reality of an NOC in Oceania, in a country like Vanuatu, with a population of just over 300,000?
VASANOC has two full-time employees – a general manager and a development officer – plus one volunteer each year on civic service. In addition, there is a financial delegate, plus the members of the office. The committee's headquarters are located in the centre of the capital, Port-Vila. It is very open to federations. There are about fifteen of them who are very active. I work regularly with some of them, especially for all the operations to promote Olympic values.
With a distance of more than 15,000 kilometres and a time difference of nine hours with France, how do you imagine the Paris 2024 Games in Vanuatu?
They are not yet very precise, because we do not know which athletes and how many will be able to participate. But Vanuatu will be present at the Paris 2024 Games. That is a certainty. At the Tokyo Games, the country was represented by three athletes, competing in rowing, judo and table tennis. But before Paris 2024, the country is preparing for the two most important sporting events of the year: the Commonwealth Youth Games in August in Trinidad and Tobago, and the Pacific Games in November in the Solomon Islands. The latter event promises to be huge for Vanuatu, with a delegation of several hundred athletes and preparations in China.
What is your relationship with the CNOSF and the Paris 2024 OCOG?
I am in regular contact with them. They both accompany and follow me. Last week, I had a telephone conversation with the person in charge of the volunteers programme at the Paris 2024 OCOG. Earlier, I had spoken to the CNOSF. I have to send them a monthly report on my activities. I don't feel isolated or left to my own devices.