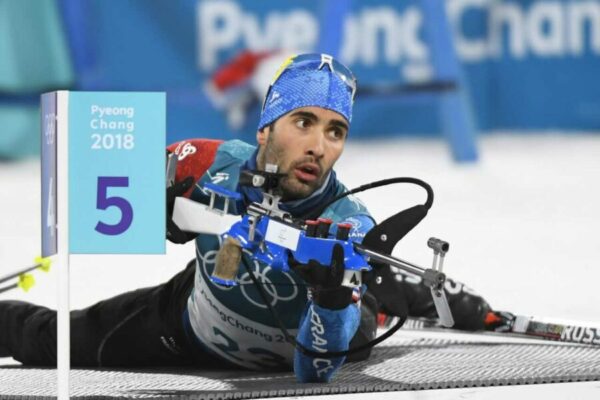 The question of the return of the Russian and Belarusian athletes in the international competitions occupies the Olympic movement, since several months, until monopolizing the conversations. The political world invited itself in the debate, at least in the West. Two camps were formed. They fight for the floor.
But what do the athletes think? The IOC interviewed five of them, active or recently retired. They come from four continents and represent five Olympic sports, winter or summer. Two of them, Martin Fourcade of France and Maja Włoszczowska of Poland, are members of the IOC Athletes' Commission.
Martin Fourcade, Biathlon, France
"As an athlete representative and a sportsman, I strongly believe that we should consider allowing Russian and Belarusian athletes to compete in sports competitions. While I understand the sensitivity around this issue given the ongoing war in Ukraine, I feel that excluding these athletes from competition because of their passport or nationality is discriminatory and goes against the core values of sports.
As athletes, we all share a common bond, and our nationality or political beliefs should not prevent us from competing against one another. During my 15 years as an athlete I competed for France, but I never stood for my government positions or decisions on the starting line. I competed as an athlete, a human being, and as an opponent for anyone who lined up beside me.
I also believe it's important to show Russian people that athletes from their country and athletes from around the world can rise above politics and propaganda and compete on a fair and equal playing field.
I know it may be difficult to understand the position I take. I understand that, I'm not blind. But my opinion is what it is because of my understanding of the Olympic Values. I know it does not ease the difficulties of the Ukrainian people due to this terrible war they are facing. I'm 100% with them and I want to be totally clear on that message because we are living in a world where some things are either black or white, there is no gray zone. The fact that I support the return of Russian and Belarusian athletes does not mean I am supporting the war. I do not, and never will."
Maja Włoszczowska, Mountain Bike, Poland
The global Olympic community supports the IOC recommendation. Although the issue of allowing athletes from Russia and Belarus to compete in international competition, and eventually the Olympic Games, is not a black and white one. As an athlete from a neighbouring country, I hear many different opinions.
Of course, there are those who believe in complete disqualification of athletes from these countries, but the majority of the community believes that individual athletes should not be held responsible for the actions of their government.
Especially for athletes from countries that are in constant conflict with neighbours, this issue is of grave concern. If we disqualify Russian and Belarusian athletes, what about other nations? There are a lot of conflicts in the world. The idea of the Olympics, from the very beginning, is to bring everyone together regardless of their government's actions.
Mohamed Ghaleb Mohamed Al-Qarnas, Boxing, Yemen
"As an athlete, I believe that Russian athletes' participation in international sport should be allowed, but without medals. The grave mistakes of the Russian government should not be held against individual athletes who have worked hard, all their lives, to compete at the highest level.
However, I do believe that Russia must stop its unjust war against Ukraine. Being in favour of the return of Russian athletes does not automatically mean one is in favour of the war.
Speaking from personal experience, I know first-hand the challenges that Yemeni athletes face, especially with the ongoing war in our country. The eight year-long war has led to thousands of deaths in my country, and created a major humanitarian crisis. Many of us athletes have had our salaries and funding cut off, and it can be difficult to balance sports with work, study, and family responsibilities. One of the biggest challenges we face is the lack of access to training camps. Without proper training, it's impossible to reach our full potential and compete at the highest level. Unfortunately, the government's focus on the war has left little room for sports.
Despite these difficult circumstances, I remain committed to spreading the importance of sports culture in our community. It is my hope that one day, we can move beyond political turmoil and truly embrace the power of sports to unite and inspire us all.
Kirtie Algoe, Taekwondo, Suriname
"As humans and athletes, it is natural that our hearts go out to the victims of the conflict, and the sporting community in Ukraine.
At the same time, I was really disappointed when I initially heard that the IOC had called for a total ban on Russian athletes. In my view, this action contradicted the principle of political neutrality as outlined in the Olympic Charter. I am glad the IOC reconsidered and looked at the possibility of allowing athletes from Russia and Belarus to compete under a neutral flag.
The fact is, if you look at international relations and diplomacy, there are always opposing points of view and not every country or region has the same stance on every issue. Hence, political neutrality is crucial for sports, for the IOC. We must bear in mind that the Olympic Games are not the property of any country; they belong to the sports community and the major representatives of that sports community are athletes, regardless of whether their country is run by a non-democratic leader or not. Athletes should have an equal right to participate, and the platform of the Olympic Games should be a safe space.
I am aware my opinion may not be popular with some of my fellow athletes, but for me it is clear that we cannot allow the Olympics to become an instrument for political wars. Think about the athletes who have been training all their lives, and especially for the last few years to compete at the Olympic Games. We cannot deny them the opportunity to compete because of the actions of their government; it's simply not fair.
This is no way implies that I support the war."
Victoire L'or Ngon Ntame, Volleyball, Cameroon
"The Universal Declaration of Human Rights states that all human beings are free in dignity and rights, without distinction of any kind, including based on the political, legal or international status of the country or territory of which a person is a national. This clear diktat, along with the Olympic Charter that stipulates that the practice of sport as a human right, makes it clear that it is fully within the rights of the Olympic Movement to allow athletes with Russian or Belarussian passports to participate in sports competitions.
The three Olympic Values are excellence, friendship and respect. For me, these values extend to every human being, without discrimination. The International Federations that constitute part of the Olympic Movement, are the ones that decide the eligibility for their respective sports and disciplines. If international tennis has allowed Russian and Belarusian athletes to take part in professional tournaments, it would be incongruous to prohibit their compatriots from taking part in international competitions. These professional tennis tournaments often have more visibility than the tennis tournament at the Olympic Games, for example.
Athletes should not pay the price for conflicts between governments. It is unfair to shatter an athlete's Olympic dream because of a situation that they did not cause. We hope that the Ukrainian government will put the interests of its athletes above political ones. I hope the IOC can find a way for Ukrainian athletes who want to take part in this great world sporting event to realise their Olympic dream.
I remember how North and South Korea put aside their grievances to participate together at the Olympic Games. I hope and wish that Ukrainian and Russian athletes can demonstrate greatness by respecting the Olympic values and fair play in a similar way. I know it will not be easy, given the extremely difficult circumstances the Ukrainian athletes face."