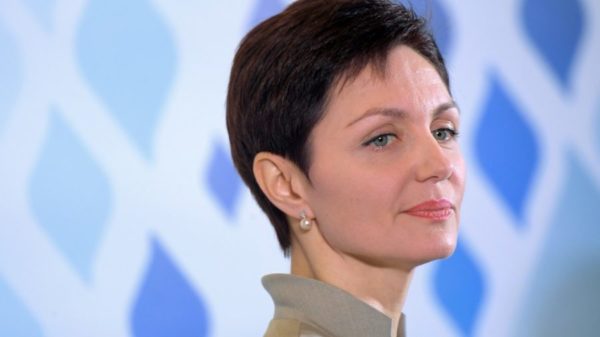 The beginning of the exodus? According to the TASS agency, former Russian swimmer Anastasia Davydova (pictured above) has left her country with no intention of returning. She is the first of the great Russian sports figures to go into exile outside Russia since the start of the conflict in Ukraine.
Anecdotal? Certainly not. Seven months after the Russian army launched its invasion of Ukraine, Anastasia Davydova's defection is significant in two ways.
Now 39, she is one of the most decorated synchronised swimming specialists in history. She won five Olympic titles between the Athens 2004 and London 2012 Games. She is a 13-time world champion. Only one swimmer is ahead of her in the discipline's list of winners, her compatriot Svetlana Romashina, seven times Olympic gold medallist between Beijing 2008 and Tokyo 2020.
Above all, Anastasia Davydova has played a major role in the Russian sports movement since her retirement from swimming after the London Games in 2012. She was the full-time secretary general of the Russian Olympic Committee (ROC). She also created an Olympic synchronised swimming centre in Moscow in her name.
According to TASS, Anastasia Davydova informed the staff of her swimming centre on Monday 26 September that she had left Russia "without any plans to return".
"Yesterday, the staff of our centre received a letter from Anastasia Semyonovna [Davydova] by e-mail, in which she announced her departure from Russia," the Moscow synchronised swimming centre said. "She did not name the reasons for her decision, she only noted that she did not plan to return."
Asked by Russian media, the ROC did not confirm the departure of its secretary general or her family members. "There has been no official resignation of the secretary general from the ROC," the body said in a message posted on Telegram. "The ROC apparatus is operating in a reinforced mode, the operational efficiency of the organisation does not depend on the personal situation of the secretary general. If necessary, relevant decisions will be made in accordance with the Charter of the Russian Olympic Committee and only on the basis of verified data."
The defection of the former swimmer comes just days after Russian President Vladimir Putin announced a new mobilisation of 300,000 reservists to reinforce the military forces in Ukraine.
The day after the announcement, the President of the Russian Olympic Committee, former fencer Stanislav Pozdnyakov, was asked about the impact of such a decision on Russian athletes. The Olympic leader's response was blunt: "The ROC trains the Olympic team, the current members of the national teams are under the jurisdiction of the National Sports Training Centre and the Ministry of Sport, so the question should be addressed to them. But from the ROC's point of view, we consider that service to the fatherland is an honourable duty, the honourable duty of every citizen, including members of the national teams."