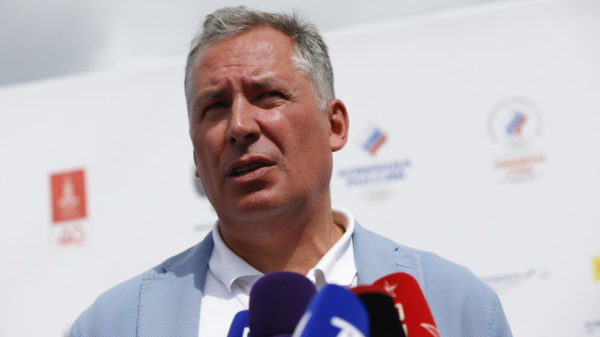 The paradox continues. Banned from the Olympic movement since the beginning of the invasion of Ukraine, Russia has disappeared from international competitions. With less than two years to go before the Paris 2024 Games, the presence of its athletes at the next Olympic and Paralympic Games is still on the cards. But its sports leaders are not sitting on the sidelines.
Stanislav Pozdnyakov, president of the Russian Olympic Committee (ROC), told journalists in Moscow at the end of last week that Russia had been invited to the next general assembly of the Association of National Olympic Committees (ANOC), scheduled for 19 and 21 October in Seoul. The ROC will be present. Stanislav Pozdnyakov is even expected to attend a meeting of the Executive Committee of the body in person.
Earlier this year, Russian and Belarusian representatives were banned from a meeting of the Association of European Olympic Committees (EOC), ANOC's continental arm. Banned in Europe, the two belligerent countries would be welcome on a global scale.
Stanislav Pozdnyakov, a former multiple Olympic fencer, explained to the media: "The very concept of the political neutrality of the Olympic movement has been called into question. From my point of view, this is mainly a consequence of the long-running media war against Russia and Russians. But we see that our voices, in one way or another, are starting to be heard again. The most striking sign is the invitation of our National Olympic Committee to the next ANOC General Assembly. I myself have received an invitation to participate in the Executive Committee meeting. This will be a good platform for discussion."
Coincidentally, Stanislav Pozdnyakov's statements come a few days before an IOC Executive Board meeting this week in Lausanne. The Russian issue will be discussed there. It has always been, in one way or another, since the beginning of the conflict in Ukraine. But it seems unlikely that the Olympic body will reverse its decision to maintain the status of its two Russian members, Yelena Isinbayeva and Shamil Tarpishchev.
Stanislav Pozdnyakov also spoke to the media last Friday about the Olympic future of Russian athletes. Will they be present at the Paris 2024 Games? Their exclusion from the vast majority of international competitions makes their participation highly unlikely, as the first qualifying events begin. But the president of the ROC still believes they will.
"There are still many details to be worked out," admits Stanislav Pozdnyakov, "but we will insist on the full participation of all our athletes during the qualification period. The Russian leader's optimism, however, risks clashing with the rules in use in international federations, where the road to the Paris 2024 Games remains unavailable to Russian athletes."
Thomas Bach, the IOC president, reiterated this in a recent interview with the German magazine Sport Bild: the exclusion of Russian athletes will continue as long as the conflict in Ukraine lasts.
But Stanislav Pozdnyakov insists that the notion of a "point of no return" does not really make sense in the case of Olympic qualification. "In fencing, for example, the qualification period starts in April, but it extends over eight World Cup stages," he explains. "And only the five best results are taken into account. So there is no deadline as such. The situation is often the same in other sports."
So anything is possible. The former fencer even suggests that discussions about the presence of Russian athletes in competitions are still going on. They are happening behind the scenes. "Diplomacy likes silence, so for the foreseeable future I don't think there will be any earth-shattering statements," he said. "I can't tell you everything, but we have been in contact since 24 February. The contact has never stopped."
Stanislav Pozdnyakov insists that the Russian athletes must not stop training. "They must continue to prepare for the Olympics," he says. "This is very important because they will have to be ready for the qualification stages when our partners realise the need for their return to competition."