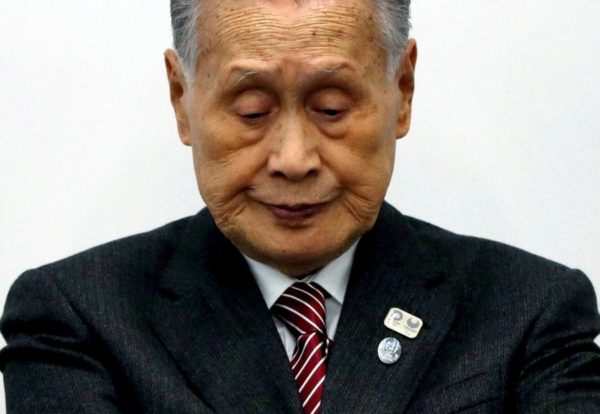 The soap opera about alleged corruption at the Tokyo 2020 Games has just been expanded with a new episode. Good news for fans of sensationalism: it features a major player in the latest summer Olympic and Paralympic event. A real heavyweight. Mr President.
According to a source close to the investigation, quoted by the Japanese daily Sankei and the Kyodo News agency, the former president of the Tokyo Games organising committee, and former Japanese Prime Minister, Yoshiro Mori (pictured above), is directly involved in the corruption case involving a partner of the event, the men's clothing brand Aoki, and a former member of the Tokyo 2020 board of directors, Haruyuki Takahashi.
Both media outlets report that the former founder and president of Aoki Holdings, Hironori Aoki, told prosecutors investigating the case that he had given Yoshiro Mori the sum of 2 million yen (€14,300 at the current rate). The money was allegedly paid in cash, in two instalments, at a time when the former Japanese prime minister was still the chairman of the Tokyo Games organising committee.
Hironori Aoki is said to have met Yoshiro Mori through the intermediary of the other major player in the affair, Haruyuki Takahashi, former head of the Dentsu group, the Tokyo 2020 advertising and public relations agency. The meeting is said to have taken place before the official announcement of the partnership between Aoki and the organising committee.
Kyodo News suggests that the money was used to fund the treatment of Yoshiro Mori, now 85, who was battling cancer.
The investigation is currently looking into the relationship between the Aoki company and the organising committee of the Games. It has already revealed that the Japanese suit and menswear manufacturer negotiated its entry into the Tokyo 2020 marketing programme at a much lower rate than the established schedule. It is now seeking to discover what kind of favours Aoki would have received in return for his largesse, from Haruyuki Takahashi and Yoshiro Mori.
The former Japanese prime minister, who was forced to resign in February 2021 for making sexist remarks during a meeting of the Japanese Olympic Committee, said through a representative that he had never discussed the choice of the brand as a partner for the Games with Haruyuki Takahashi and Hironori Aoki.
But it now seems very clear that Haruyuki Takahashi took advantage of his position on the board of directors, and his past as head of Dentsu, to influence the choices of the marketing division of the organising committee. According to a source close to the case, it hosted a large number of Dentsu employees, seconded to the organising committee.
Haruyuki Takahashi, 78, is suspected of having received bribes totalling about 51 million yen (365,000 euros) from the Aoki company between 2017 and 2021. He was arrested last month. Hironori Aoki, 83, and two other company executives were also arrested