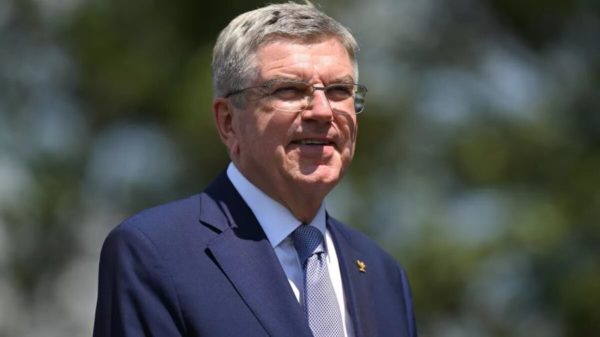 The date is written in stone. Thomas Bach will hand over the keys to his office as IOC President in 2025. First elected in September 2013 in Buenos Aires for an initial eight-year term, he was re-elected last year for a second and final four-year term.
Barring a highly unlikely change in the alignment of the planets, Thomas Bach will no longer be at the helm when the next Summer Games host city is chosen. The battle for the Olympic Games in 2036 will be played out under the governance of his successor.
Will Thomas Bach play a role? Probably. The first clue is that the former fencer gave a frank answer to Sport Bild magazine about a possible German bid. Asked if he thought it was conceivable that Germany would bid again 100 years after the Nazi Games in Berlin in 1936 and perhaps even win the bid, Thomas Bach replied: "Yes".
Then, when asked to elaborate on his answer, he explained: "It would not be viewed so negatively at international level. Of course there would be criticism, and there would be criticism from the other candidates. But from an international point of view, these 1936 Games will not be blamed on Germany. They could even be a sign, as Munich was. At the time, the 1936 Games were not blamed on us either. This opportunity would also arise in 2036. I wouldn't see any real obstacle in the date."
Thomas Bach's message is clear: Germany can consider a bid for the Summer Games in 2036 without fear of being plagued by the dark memory of Berlin 1936. It can take its chances. The IOC President elaborates in the interview: Germany should not only think about a bid, it should act on it. "Because the Olympic Games are still the event that brings the whole world together in one place," he explains. The event that gives German athletes the chance to celebrate the Olympic Games at home. And to celebrate with the population, as we experienced in 2006 during the football World Cup.
The interview with Sport Bild, which was conducted on the sidelines of the recent world slalom canoeing championships in Augsburg, also touched on the conflict in Ukraine. The German leader reiterated his wish that Russian and Belarusian athletes remain banned by the international federations.
But he takes a clear stand against the decision of the British authorities to exclude them from the last Wimbledon tennis tournament. "This is totally against our rules and our mission. Tomorrow, governments will decide that athletes from this or that country are not welcome either. Sport would then become part of the system of sanctions and counter-sanctions that is very common at the moment."
On the question of UN human rights standards, which are still absent from the Olympic award process, the IOC president announced a forthcoming change. "I can ask for a little patience," replied Thomas Bach. We are already applying these standards, and we are currently in the final phase of discussions on our overall human rights strategy. If the discussions we are currently having with various NGOs go as I hope, we will be able to adopt this strategy in its entirety in the next few weeks."
On a more personal note, Thomas Bach explains that he cannot run because of hip and back problems, painful memories from his fencing career, but has recently discovered mountain hiking. "If a trail is advertised for four hours, I want to do it in two and a half hours maximum," he says. "I need to be challenged, to sweat, to breathe, to feel the exhaustion. But my colleagues are not very happy when I work out, because they know: That's where he always comes back with his ideas."