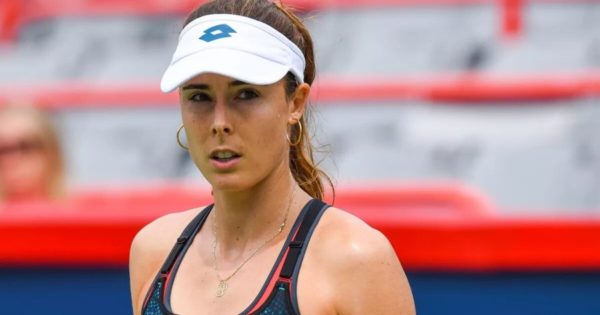 Here it is again. At Wimbledon as well as in the cycling peloton, the COVID-19 is once again making a name for itself. It was not expected. But its new growth spurt is having unprecedented effects.
Since the beginning of the week, the health crisis has been making news on the lawn of Wimbledon. Two of the main favorites of the London tournament, the Croatian Marin Cilic and the Italian Matteo Berrettini, had to put their thumbs down, forced to withdraw after testing positive.
More unexpectedly, cases of COVID-19 are loosening tongues among current and former players. France's Alizée Cornet (pictured above), world No. 37, caused a stir in a press conference on Tuesday, June 28, after qualifying for the second round of singles. Asked about the positive cases of Marin Cilic and Matteo Berrettini, she assured that the last French Open tournament had been hit hard by the pandemic.
"At Roland Garros, there was an epidemic of COVID, nobody talked about it," she told the media. In the locker room, everyone had it and they didn't say anything. Afterwards, I saw girls wearing masks, maybe because they knew and didn't want to give it away. You also have to be civic-minded."
Alizée Cornet did not mention any names. But she added, still in a press conference: "There is no psychosis. We paid the price, we ate our black bread with a year of bubbles and tests. We have all been vaccinated. We have to be consistent about how we do it. Covid is a part of our lives now. We're not going to self-test and get in trouble!"
Later in the day, the French No. 1 backtracked on social media. "I said I suspected a few cases of COVID during the French Open, without having any proof", she wrote in the hope of putting out the fire lit by her statements. "It was above all to emphasize that the virus was now part of our lives and that we had to deal with it."
According to AFP, citing "a source close to the Paris Grand Slam", only three cases of COVID-19 were recorded during the last French Open. Only one, that of the title holder, the Czech Barbora Krejcikova, was made public by the player herself.
Much ado about nothing, then? Not sure. The day after Alizée Cornet's comments, another French player, who has withdrawn from competitions, suggested in turn that the reality of COVID at Roland-Garros had been very different from the official version.
Now a consultant for the BeIN channel, Tatiana Golovin explained on Wednesday, June 29, that the Czech players "all had COVID and nobody talked about it."
Retired from the courts since 2009, the former world number 12 did not name names either, but she insisted: ""There were a lot of cases, we didn't talk about it, we talk about it because there was the Berrettini case, there were cases at Roland and no one talked about it."
The Czech Tennis Federation reacted without qualification, whose spokesman explained to AFP: "Her statement is so absurd that we find it hard to believe that someone could have made such comments and meant to say that. It is completely absurd."
The declarations of Tatiana Golovin and Alizée Cornet suggest it: the relaxation of the health protocols, or even their pure and simple abandonment, opens the door to all interpretations. The French Tennis Federation (FFT), organizer of the Roland Garros tournament, does not say otherwise. It recalls that the vaccination or health pass was no longer required for the 2022 edition. And specifies "not being able to force anyone to make a test". Even less to reveal the result.