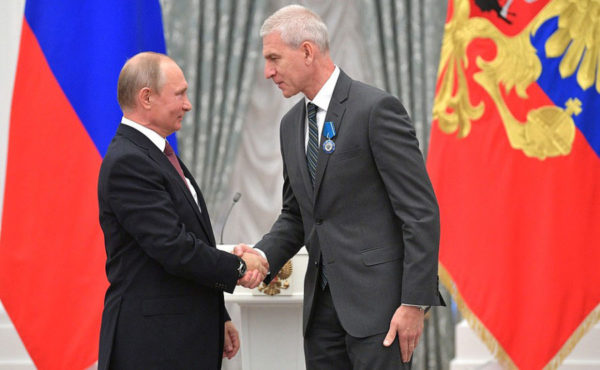 Is Russian sport already tired of its isolation from the international sports movement? Five weeks after the start of the invasion of Ukraine by the Russian army, and one month after the first sanctions against its athletes, Russia dared to take a step forward.
The gesture came from above. Oleg Matytsin, the Russian Sports Minister (pictured above with Vladimir Putin), announced on Wednesday 30 March that Russia would invite "friendly countries" to participate in its National University Games. The event is due to be held in early July. It was planned before the conflict with Ukraine began.
"This year we are organising the Russian Universiade at the beginning of July," explained Oleg Matytsin, quoted by the TASS agency. We will invite universities from friendly countries.
The Russian leader did not specify which countries would be invited to send a delegation to the university event. Belarus, which has also been ostracized by the international sports movement, is expected to attend. China could also be among those present.
The next few months should reveal the details of Russia's invitation to break its isolation. But one thing is certain: the announcement made by Oleg Matytsin suggests that Russian sport wants to circumvent, at least partially, the sanctions recommended by the IOC and followed by the vast majority of international sports federations.
Oleg Matytsin did not mention the National University Games by chance. Before joining the government as Sports Minister in January 2020, he had made a name for himself in the Olympic world as President of the International University Sports Federation (FISU). He was forced to step down from his presidential role in March 2021, at least temporarily, due to Russia's two-year suspension from the Olympic movement.
Despite the influence of its former president, FISU was quick to join the list of international bodies that decided to ban Russian and Belarusian athletes. It excluded them from all its competitions at least until the end of 2022. At the same time, FISU withdrew the organisation of three university events planned for this year.
On the other hand, there is still some doubt about the World University Games in 2023. The major event in the busy FISU calendar was awarded to the Russian city of Ekaterinburg. To date, it is still the host city.
As Oleg Matystin's announcement suggests, with less than 900 days to go until the Paris 2024 Games, Russia is beginning to fear that its athletes will lose any chance of making it to the next Olympic Games due to a lack of competition and confrontation.
Few international federations have opted for a middle way, allowing Russians to compete under the guise of neutrality. FINA was one of them. But the threat of a boycott of the 2022 World Swimming Championships in Budapest by Switzerland and Germany if Russian and Belarusian swimmers were present in the pool made it back down. FINA in turn banned athletes from both countries.