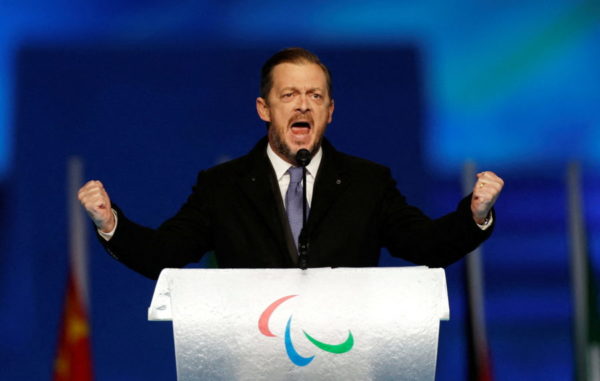 Will International Paralympic Committee (IPC) President Andrew Parsons' speech at the closing ceremony of the Beijing 2022 Games on Sunday 13 March be censored by Chinese television? The question should not be asked. Yet it is a topical one.
On Friday 4 March, an unprecedented incident occurred during the opening night of the Beijing Paralympic Games.
Invited to deliver the presidential address at the Bird's Nest in the Chinese capital, Andrew Parsons did not avoid the subject of the geopolitical context. He spoke directly about the invasion of Ukraine by the Russian army.
"The 21st century is for dialogue and diplomacy, not war and hatred," he suggested. The Olympic truce must be respected and observed, not violated." The Brazilian then expressed his thanks in three languages, before giving a heartfelt shout, "Peace", with both fists clenched (pictured above).
Later, Andrew Parsons admitted that this last word was not written in his speech. "It came from the depths of my soul. It was a reflection of the emotions I was feeling at that moment.
The image went around the world. But the problem was that China's state broadcaster CCTV muted some of the words of the CPI president's speech. The presenter in charge of translating the speech offered Chinese viewers a very watered-down version of Andrew Parsons' words, stripped of references to the Russian invasion of Ukraine.
The day after the incident, the IPC asked CCTV for an official explanation. The IPC also wanted to ensure that the same censorship would not be repeated at the closing ceremony on Sunday evening. But Andrew Parsons told AFP that the answers have not yet come. We're still waiting to hear their position or their explanation," he admitted. Let's wait to hear what they have to say."
With three days to go before the end of the event, Andrew Parsons also spoke to the media about the double decision taken by the IPC Council regarding the participation of Russian and Belarusian athletes. In favour one day, against the next. Awkward. But the Brazilian insists: "I don't think this reversal was embarrassing for the IPC. We had made an initial decision. Then we listened to our members, who told us that this was not enough. They wanted us to reconsider our position in the light of different elements. We had a Games to organise. That was the most important thing. I don't regret the first decision. And I don't regret the second one."
In Beijing, the Ukrainian delegation made an appeal for peace on Thursday 10 March in the athletes' village. The twenty members of the team gathered around the president of the National Paralympic Committee, Valerii Sushkevych. They unfurled a banner, "Peace for All", and observed a minute of silence before raising their fists to the sky.
"This minute of silence is dedicated to the thousands of people, including children and other people with disabilities, who are still in Ukraine," said Valerii Sushkevych. If humanity is civilised, then this war must be stopped. People, women and children deserve to live, not to die."
According to the head coach of the Ukrainian delegation, Andriy Nesterenko, seven members of the Paralympic team at the Beijing Games live in Kharkiv, a city besieged by Russian forces. "The Russians have bombed many hospitals and schools, he said. We need your support today, not later."