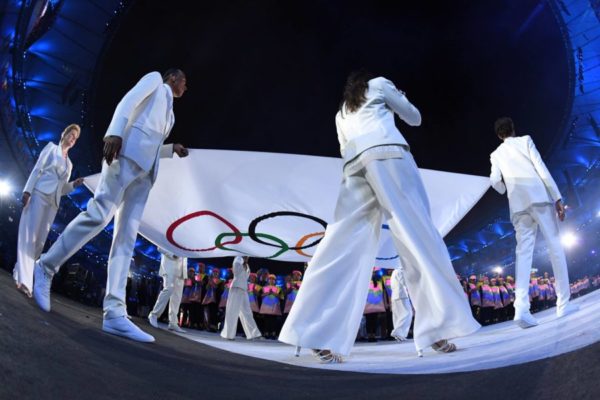 FrancsJeux is innovating. For the second time. Last year, with the help of a jury of experts, we established the first ranking of the most influential French speakers in the Olympic movement over the past 12 months. It was dominated by Christophe Dubi, the IOC's Director of the Olympic Games. The podium was completed by Tony Estanguet, the President of the Paris 2024 OCOG, and Gianni Infantino, the President of FIFA.
Change of plans for 2021. At the end of an Olympic year still disrupted by the health crisis, but marked by the holding of the Olympic and Paralympic Games in Tokyo, it seemed appropriate to distinguish the most remarkable and noted men, women and institutions, as well as the successes and initiatives.
Nine categories were defined. For each category, FrancsJeux selected five nominees. An international jury, composed of journalists and qualified personalities, was then convened to select the winner of each category, its members having to designate one winner per category.
Voting is now closed. The results will be announced in the second half of December. While waiting to know the winners of the first FrancsJeux Olympics awards list, here is the list of categories and nominees. And, in addition, the composition of the jury.
Leader of the Year
John Coates (Australia) – Carried the Brisbane 2032 bid to victory
Kirsty Coventry (Zimbabwe) – Expected to leave the IOC at the end of her term on the Athletes' Commission, she has become an individual member. Will chair the Brisbane 2032 Games Coordination Commission
Tony Estanguet (France) – President of the Paris 2024 OCOG, he has kept the budget and vision of the Games on track despite the health crisis
Ivo Ferriani (Italy) – New President of GAISF, already a member of the IOC Executive Board and President of IBSF (International Bobsleigh and Skeleton Federation)
Nicole Hoevertsz (Aruba) – Elected IOC Vice-President
Woman of the Year 
María José Alcalá (Mexico) – President of the Mexican Olympic Committee, the country's first
Yael Arad (Israel) – First President of the Israeli Olympic Committee, having been the country's first Olympic medallist
Seiko Hashimoto (Japan) – President of the Tokyo 2020 Organising Committee
Brigitte Henriques (France) – Elected President of the CNOSF, the first woman in history to hold the position
Petra Sörling (Sweden) – Elected President of the ITTF (International Table Tennis Federation), the first female leader to chair the body since its creation
Newcomer of the Year
Johan Eliasch (Sweden) – Elected President of the FIS (International Ski Federation)
Patrice Motsepe (South Africa) – Elected President of the Confederation of African Football (CAF)
Petra Sörling (Sweden) – Elected President of the ITTF
Luc Tardif (France) – Elected President of the IIHF (International Ice Hockey Federation)
Emma Terho (Finland) – New Chair of the IOC Athletes' Commission
The IOC's good idea of the year
Brisbane to host the 2032 Summer Games 11 years ahead of schedule
North Korea's suspension from the Beijing 2022 Games for boycotting the Tokyo 2020 Games
The Virtual Olympic Series
The launch of the first online sales platform for merchandise from the Paris 2024, Milan-Cortina 2026 and Los Angeles 2028 Games
The new Olympic motto, with the addition of the word "together": "Faster, higher, stronger, together
Performance of the year
The Japanese Olympic team – 58 medals (27 gold) at the Tokyo Games, without a single fan in the stands
The Tokyo Organising Committee – Over 670,000 anti-COVID tests carried out among accredited people between 1 July and the day after the Olympic closing ceremony.
The Paris 2024 OCOG – With 1,000 days to go, its budget remains at €3.9 billion, up from €3.8 billion when the OCOG was created.
Thomas Bach – Re-elected for a second four-year term with 93 votes in favour (one against)
Los Angeles 2028 Organising Committee – With seven years to go, already five national sponsors, including three premium partners (Deloitte, Delta, Comcast)
The Paris 2024 OCOG's idea/initiative of the year
The National Olympic and Paralympic Flag Tour
Opening Ceremony outside the stadium
The handicap race against Eliud Kipchoge to win bibs for the Marathon for All
Climate strategy (ambition to halve CO2 emissions)
The ceremony for the transfer of flags between Tokyo and Paris organised at the Trocadero
The sports movement personality who should have joined the IOC in 2021
Bill Beaumont (England) – President of World Rugby
Seiko Hashimoto (Japan) – President of TOCOG
David Lappartient (France) – President of the UCI
Richard McLaren (Canada) – Lawyer and consultant to international federations (boxing, weightlifting)
Casey Wassermann (USA) – President of LA 2028
Best idea/initiative/action of the year by an international federation
International Weightlifting Federation – New Zealand's Laurel Hubbard's qualification for the Tokyo Games as the first transgender athlete in Olympic history
International Cycling Union – The award of the 2025 Road World Championships to an African country, Rwanda, for the first time in history
World Athletics – The suspension of the Russian Athletics Federation to continue for a seventh year
International Basketball Federation (FIBA) – The successful debut of 3×3 basketball at the Tokyo Games and the creation (with the NBA) of the Basketball Africa League
FIFA – Evacuation of over 160 members of the football community in Afghanistan after the Taliban takeover of Kabul
The mistake of the year
European Super League football
North Korea to miss Tokyo Games for health reasons
Sheikh Ahmad al-Fahad al-Sabah, sentenced by the Swiss court and forced to renounce all his functions in the Olympic movement
Yoshiro Mori, the former president of the Tokyo Organising Committee for the Games, pushed out after making sexist remarks
FIFA's plan for a football World Cup every two years
The FrancsJeux 2021 awards Jury
Alan Abrahamson – 3 Wire Sports (USA)
Anthony Bloch – Bloch Consulting (France)
Jérémy Botton – Spartner (France)
Audrey Delacroix – French Tennis Federation (France)
Edouard Donnelly – BeSport (France)
Charlotte Girard Fabre and Patrick Vajda – IFSO (France)
Sevi Hubert – JTA (Great Britain)
Ed Hula – Around the Rings (USA)
Robert Livingstone – Games Bid (Canada)
Alain Lunzenfichter – World Association of Olympic Journalists (France)
Alain Mercier – FrancsJeux (France)
Elise Morel – Olbia Conseil (France)
Boubacar Noumansana – International Committee of the Games of La Francophonie (Gabon)
Emmanuel Pionner – Agence France Presse (France)
Rachel Pretti – L'Equipe (France)
Claire Rabès – France Sport Expertise (France)
Jean-Pierre Siutat – Francophone Association of National Olympic Committees (France)
Philippe Vande Weyer – Le Soir (Belgium)
Giulia Zonca – La Stampa (Italy)