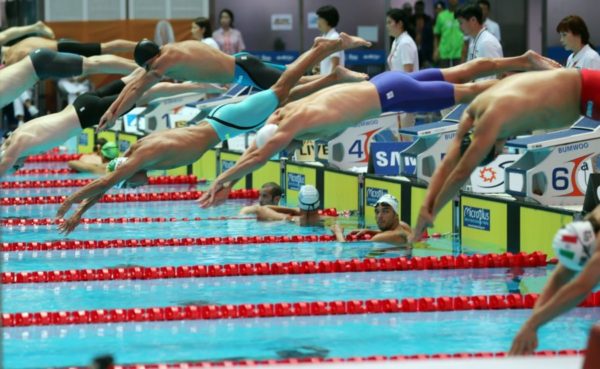 Immobility and tradition have been thrown away. Presided over for more than ten years by the Uruguayan Julio Maglione, the International Swimming Federation (FINA) is now led by the Kuwaiti Husain Al-Musallam. The change is visible. It is even spectacular.
As soon as he took over, the new strong man of the body promised reforms. They are contained in an 18-page report, presented on Monday, October 11th, to the members of the FINA Bureau, then an hour later to a few of international media, including FrancsJeux.
The document is signed by Swiss lawyer Franco Carrard, former IOC Director General, chosen by FINA to chair a reform committee. Its members worked for more than two months on the future of swimming, its events and its institutions. They consulted about 50 people at all levels of the aquatic pyramid.
The result is based on six pillars: governance, marketing, communication, competitions, digital transformation, and finally a somewhat catch-all trio composed of protection, medical issues and equity. Classic.
The reforms proposed by François Carrard and his team will be discussed with the national federations at the next extraordinary FINA congress, scheduled for December 2021 in Abu Dhabi, at the same time as the 25m world championships.
The next step, at the 2022 Congress in Fukuoka (Japan), could be their adoption. Brent Nowicki, the body's executive director, a former Court of Arbitration for Sport (CAS) judge, promises: "The implementation process has no reason to drag on. We don't want to wait too long to set up the reforms".
At the top of the list is the creation of a swimming integrity unit. Similar in principle to the one set up by World Athletics, it will be independent. Its role will be to avoid possible conflicts of interest in the treatment of doping cases. It could also be called upon to deal with manipulation cases, corruption and violation of ethical rules.
The report, chaired by François Carrard, clearly states that FINA has been criticised for years for its laxity in dealing with doping, corruption and integrity violations. Alleged offences were often passed on "underground". The various judicial bodies were independent in name only. "Athletes, in particular, had little confidence in the integrity of FINA's anti-doping, arbitration and ethics system," the document insists.
Brent Nowicki suggests: "Athletes in our disciplines deserve the best in terms of integrity protection, whether it be in relation to anti-doping, competition manipulation, harassment, abuse or other ethical violations".
Other recommendations include a complete overhaul of the marketing strategy, which is considered to be out of step with the new market rules; a review of the competition calendar, which for too long has been based on a desire for quantity, without always thinking about the quality of the events; an increase in prize money; and finally, greater parity at all levels of FINA's governance.