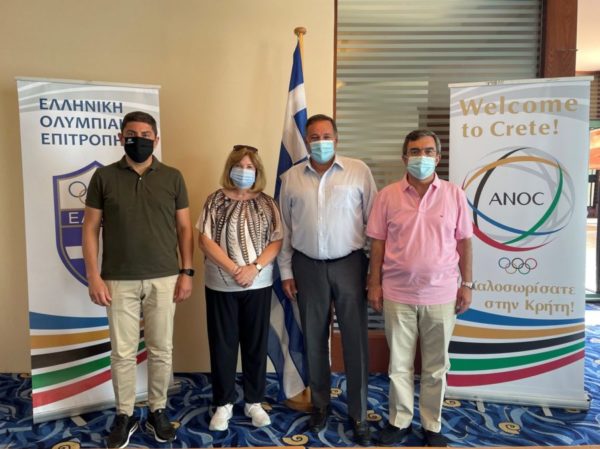 Should we believe it? With just over six weeks to go before the event, the Association of National Olympic Committees (ANOC) continues to ensure that its next annual general assembly will be held physically. However, in an unencouraging announcement, it has just moved the venue.
The main meeting of the entire Olympic movement, where representatives of the 206 National Olympic Committees gather every year, ANOC's General Assembly was initially scheduled to take place last year in Seoul, on November 25th-26th. It was postponed by one year because of the sanitary crisis, and rescheduled in the same city, but with a 11-month delay (October 26th-27th, 2021). So far, nothing very unexpected. Just routine, in these times of global pandemic.
But the plans were changed last July. Meeting during the Tokyo Games, the ANOC Executive Committee announced that it had moved the General Assembly from Seoul to Athens. The invitation came from the Greek authorities and the Greek National Olympic Committee. A way for Greece to console itself for not having been able to organise the IOC session planned at the beginning of the year, finally held in virtually because of travel restrictions.
New change announced by ANOC earlier this week: the case is taken over by Crete from Greece. The ANOC Executive Committee has decided to move its General Assembly some 600 kilometres away. It will take place at the Creta Maris Beach Resort, a vast hotel complex located 25 km from Heraklion International Airport.
The proposal was reportedly made by the Greek Minister of Sport, Lefteris Avgenakis, a native of the island of Crete. Several ANOC representatives, including Secretary General Gunilla Lindberg, visited the complex last week before giving the green light. The venue changes but the dates remain the same: October 24th and 25th, 2021. That's just over six weeks away.
At this stage of preparation, there is still some doubt as to whether the Olympic movement can meet in one place in such a short time. ANOC's General Assembly usually brings together at least a thousand people from all over the world.
At a time when the sanitary crisis continues to cancel or postpone certain sports events, the calendar remains unstable. Once the Tokyo Games are over, the virtual world is already taking over. The IOC Executive Board meeting on Wednesday, September 8th, is once again being held by video conference. The next edition of SportAccord, scheduled for November 2021 in Ekaterinburg, has already been postponed to spring 2022.
But Gunilla Lindberg is optimistic. "We have less time than usual to prepare," explains the Swede. "But the Hellenic Olympic Committee and the island of Crete have a lot of experience with international meetings. We are looking forward to welcoming all the National Olympic Committees to Crete."