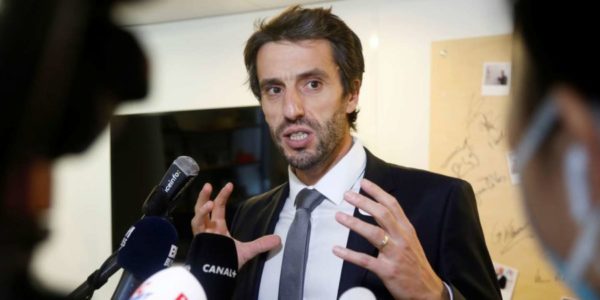 One is not born a president, but rather becomes one. This sentence perfectly fits Tony Estanguet. The three-time Olympic canoe champion did not seem destined to sit in a presidential chair one day.
At the beginning of the Paris 2024 adventure, the role was entrusted to Bernard Lapasset, the former president of the IRB. Then Tony Estanguet moved up during the bid phase to sit on his side. Since Paris won the race to host the 2024 Summer Games, he has been the only person to hold the position. It stands to reason.
With less than three years to go, Tony Estanguet lengthily explained to FrancsJeux how he experienced the Tokyo Games as president of the Paris 2024 OCOG, but also how he sees his role, its risks and its challenges. A two-part interview.
A president at the Tokyo Games
"During the Tokyo Games, the vast majority of my time was dedicated to my role as President of the Paris 2024 OCOG, even though I was still an IOC member. I met with all the presidents of the international federations, all the stakeholders in the Olympic movement, the broadcasters, OBS (Olympic broadcasting services), some of the major National Olympic Committees…. My role was to work with the Organising Committee, the IOC and the international federations to smoothly prepare the transition to Paris 2024. This was my main task. What I learned from my presence in Tokyo is that the entire international ecosystem and the French players are hoping that Paris 2024 will be a real success. This gives me peace of mind. There are many of us who want it to work. Things don't just rest on my shoulders."
President of the OCOG, a role to be shaped
"I may not have been destined for this position, but I am experiencing it very well. It is an absolutely incredible personal challenge. A rare one. I am completely fulfilled in this mission. I am approaching it as I have always done in my previous challenges. I observe. I meet. I talk with people. I have met the London 2012, Rio 2016, PyeongChang 2018 and Tokyo 2020 teams. I am nourished by the way I see things, always keeping the Paris 2024 Games in mind. But I want to bring my own vision and added value, so that I don't just reproduce what others have already done. The idea is to build the most solid base possible, with what has worked in past editions, while forcing ourselves to build a new model."
Nourished by meetings and exchanges
"I did not undergo any training to become President of the OCOG. But I was very curious about everything I learned from Bernard Lapasset, Jean-Claude Killy, Thomas Bach, Christophe De Kepper, Christophe Dubi, all these personalities who had been involved in different organising committees before me. I was nourished by these exchanges. But after a while, I wanted to function as I did when I was an athlete. At the beginning, you feed off the advice of coaches and athletes who have been to the Games before you. And then one day, you have to go. You have to take responsibility and decide on your own. At this stage, I'm at that point. When an issue comes up, I feed off the people who have already been confronted with it. Then, when I have to decide, I do it with the right people around the table. There is a time to learn, and a time to do. I am very well surrounded, with people who accompany and advise me. We have always been able to move forward collectively. It's a huge richness. People's positions are not always the same, but there is still freedom of speech in this project."
More conductor than politician
"The success of Paris 2024 relies on many stakeholders. The stakeholders in the sports world, both national and international, but also the French public authorities. My role is to bring coherence, to allow each of these stakeholders to find their place and contribute to the success of the project. They are quite numerous, but I see it as a real opportunity because they all want to be part of it. My role is to create the desire and maintain a very strong ambition. Beyond this aspect, which is the most important part of my function, I also have an executive role. We have organised the OCOG with directors and departments. You have to coordinate all of it. We have to make sure that everyone allows the project to move forward and succeed. The Paris 2024 Games will be a success if all the public stakeholders continue to invest as they have done since the beginning. They carry the ambition of the Games for France. I must work with them, I must get them on board. They are all volunteers, it is up to me that this adventure remains a collective one."