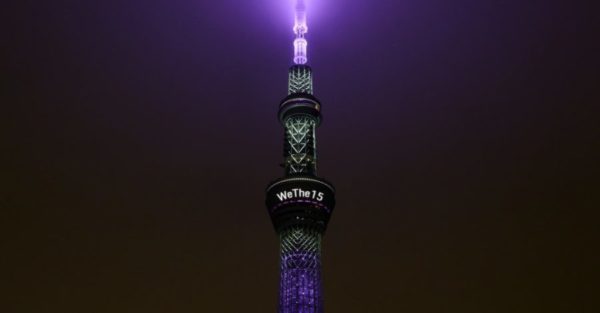 Will the Tokyo Paralympic Games change society's view of people with disabilities? Five days before the opening ceremony of the Paralympics (August 24th to September 5th), the IPC hopes so. On Thursday August 19th, the IPC launched a global campaign that is unprecedented in the history of the Paralympic movement. Its name: "WeThe15".
The name may come as a surprise. It can be explained by the figures. According to United Nations estimates, there are currently 1.2 billion people with disabilities in the world, i.e. 15% of the world population. The campaign, launched from Tokyo and introduced as "the world's largest human rights movement", aims to help them.
Andrew Parsons, President of the International Paralympic Committee (IPC), explained it on Thursday, August 19th during a video conference organised from the Japanese capital: "WeThe15 aspires to become the largest disability rights movement, and to put disability at the heart of the inclusion agenda, alongside racial, sexual and gender diversity. By bringing together several leading international organisations and the 1.2 billion disabled people in the world, we can make a real difference. And the Tokyo Paralympics can help by giving our movement a global platform".
The "WeThe15" campaign brings together the four international sports organisations of the disability movement: the IPC, Special Olympics, the Invictus Games Foundation, and the International Sports Committee for the Deaf. A historic first. Together, they want to use all the events in their sporting calendars to relay and share the message.
Andrew Parsons explains: "WeThe15″ not only aims to be the biggest disability movement in history, it will also be the longest. The campaign is set to last until 2030, with a specific theme each year, such as employment or education. "By joining forces with the Special Olympics, the Invictus Games and the Deaflympics, we will have at least one major international sporting event for people with disabilities where we can display the colours and message of "WeThe15″ every year until 2030," insists the Brazilian leader.
The campaign will be relayed on social networks. It has the support of several celebrities, including David Beckham, Oprah Winfrey and Prince Harry, who is very involved in the creation of the Invictus Games.
For its launch, "WeThe15" hit hard. More than 125 monuments around the world were or will be lit up on Thursday, August 19th in purple, the symbol of unity. The Empire State Building in New York, the Colosseum in Rome, the Eiffel Tower in Paris and the Sky Tower in Tokyo are among them.
"The Tokyo Paralympic Games will have an impact, that's for sure," says Andrew Parsons, convinced that the event could be seen by four billion viewers worldwide.
That's for sure. But the sanitary crisis will not help. According to a survey conducted by Kyodo News, 95% of Japanese cities that had planned exchange programmes with Paralympic athletes before or during the Tokyo Games have cancelled their projects or, in the best case, switched them to virtual mode.