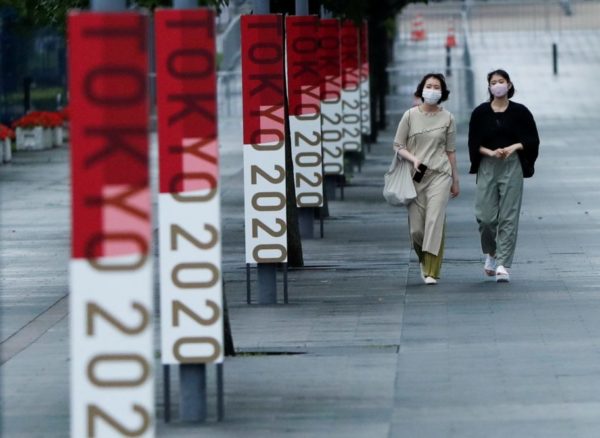 The shortcut is inevitable. Since the beginning of the Tokyo Games, on Friday, July 23rd, the curve of the COVID-19 pandemic has not stopped rising in Japan. The country recorded more than 10,000 cases for the first time, on Thursday, July 29th. In the capital, 3,865 new cases have been registered in the last 24 hours, a new record, the third in three days. With such an increase, the following question arises: are the Games involved?
The IOC and the organizing committee deny it. Masa Takaya and Mark Adams, the respective spokesmen of the two parties, repeat without weariness day after day that anti-COVID-19 measures work, that the positivity rate remains derisory in the Olympic bubble (0,08 %), and that the community of the accredited persons is by far the most tested in the world. True.
On Thursday, July 29th, the Japanese press revealed that two COVID-19 patients directly linked to the Games were currently hospitalized in Tokyo. The first two. Richard Budgett, the IOC's medical and scientific director, suggested that two patients will certainly not threaten the Japanese capital's hospital system with implosion. Also true.
Mark Adams insists every day: the protocol set up by the Japanese organizers reduces almost to nothing the contacts between the population and the tens of thousands of accredited people present in Tokyo. The IOC's spokesman assured this Thursday that, to his knowledge, there had not been a single contamination case recorded of an inhabitant from Tokyo by a foreigner coming to Japan for the Games. True also, but difficult to verify with certainty.
Nevertheless, the debate is open. Haruo Ozaki, the president of the medical association of Tokyo, does not refrain from establishing a link between the Games and the deterioration of the sanitary situation. The scientist evokes an "indirect impact". According to him, the Olympic atmosphere would encourage the Japanese to ease off. It is possible. But the atmosphere in question remains very discreet, even absent, in the capital.
In the opposite camp, the governor of Tokyo, Yuriko Koike, rather sees the Olympic event as a protection pledge for its citizens. Prevented from going to the sites because of the decision to hold closed door events, they would reportedly choose to follow the event on television. An approach which empties the streets as soon as the Tokyoïtes leave their offices, quickly returning home not to miss the Japanese performances.
The analysis is daring. But figures are going in its way. In the evening of Wednesday, July 28th, more than 110 million Japanese had watched the Tokyo Games at least once on television. A record.