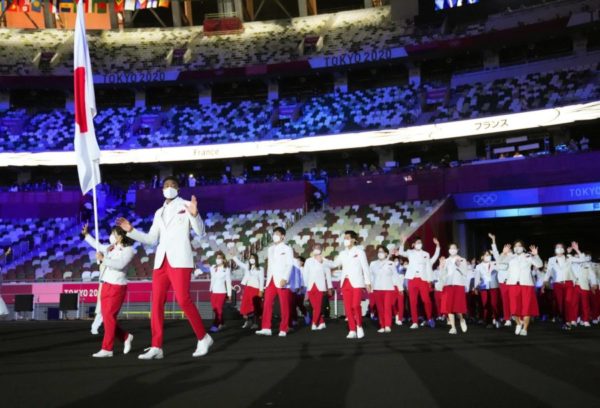 Do the Games make money? In the United States, not yet. The opening ceremony, on Friday, July 23rd, gathered only 17 million Americans on the NBC channel and on the digital platforms of the media group. The score is historically low, because of a very early morning schedule, it seems. The heavy climate surrounding the event was also a factor.
Elsewhere, the trend is pushing in the opposite direction. In Japan, especially. Week after week, polls may have expressed the same mistrust from the population towards the Games, but the Japanese do not sulk the event. According to Kyodo News, the opening ceremony's figures are more than respectable. The event's audience rate reached 56,4 % in the big Tokyo, the best result for a first Olympic evening since the opening of the Tokyo Games in 1964.
In the region of Kanto – Tokyo and its surroundings – the audience peak rose to 61 % during the delegations' parade. In Osaka, it reached 54.6% during the same sequence of the evening.
Yiannis Exarchos, head of the IOC production company (OBS), explained it on Monday, July 26th, during a press conference: the opening ceremony was seen by more than 70 million Japanese. It is reportedly the most followed televised event in the peninsula since the last ten years. "Since the beginning, 80 % of the Japanese watched the Tokyo Games at least once, on television or via a digital channel", assured Yiannis Exarchos.
A success, therefore. As they are not able to go to the stadium, the Japanese gather in front of their screens. The organizers may regret it, their ticketing plan having sunk with the decision to hold closed-door events. But the broadcasters are rubbing their hands together.
Predictable: judo is a great success, thanks to the festival of the national athletes. Naohisa Takato's victory in the men's under 60 kg final reached a 24.2% audience share on NHK. The double success of the Abe family, Uta for girls and Hufimi for boys, reached 21.6% on Sunday, July 25th, on TV Asahi. Earlier in the day, the gold medal won by Yui Ohashi of Japan in the men's 400m medley scored a 12.7% audience share, which is very respectable for a race scheduled in the morning.
Still according to Yiannis Exarchos, the opening ceremony has reportedly tripled the score achieved five years earlier at the Rio 2016 Games on Australian television.
Same success on the digital platforms. The two official sites of the Games, Tokyo2020 and Olympics.com, recorded their best visiting figures in history, on Friday, July 23rd. The next day, they increased by 20%. The next day, they increased again by another 20%.