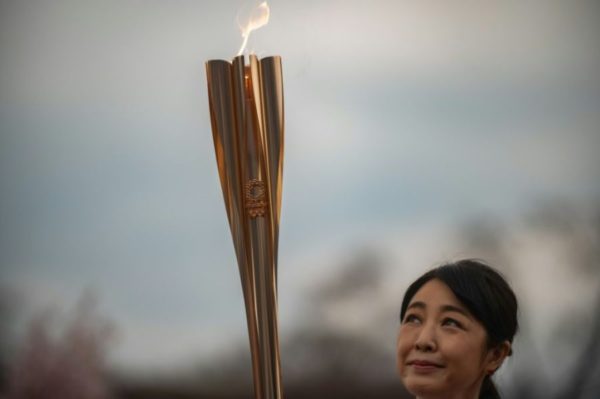 A new blow for the organisers of the Tokyo Games. On Tuesday, June 29th, the local authorities announced a dreaded but inevitable decision: the Olympic torch relay will be largely banned from public roads during the first eight days of its journey in the Japanese capital.
The torch relay left Fukushima Prefecture on March 21st and is due to arrive in Tokyo on Friday, July 9th. Its initial route was to take it through many of the capital's districts and suburbs, until it entered the Olympic Stadium two weeks later during the opening ceremony.
The arrival of the flame in Tokyo was supposed to rekindle the Japanese public's enthusiasm for the Games, whose spirits were still low less than a month before the event began.
But the new arrangements announced by the metropolitan government are likely to dampen the mood even further. The torch route will not use public roads between July 9-16th. It will be diverted to an alternative route, behind closed doors. Only a few spectators will be able to see it on the small islands of the prefecture.
The rest of the relay, between July 17-23rd, has not yet been decided. But it is also likely to be very affected by the new sanitary measures.
Tokyo authorities' decision will not only turn the torch relay route into an endless no-man's land. More than 600 runners invited to carry the torch for a relay in the capital will have to scrap the experience. They will have to be content with attending, masked and in silence, a ceremony to light the flame planned each evening at the end of the day's route.
The organisers are planning to hold a ceremony on July 9th at Komazawa Olympic Park in Setagaya to celebrate the arrival of the flame in the capital. But it could be held behind closed doors.
"The sanitary situation is bad, with a large number of infections," said an official of the organising committee, quoted by the Kyodo News agency. "If this continues, the state of quasi-emergency will be maintained beyond July 12th."
Placed under a state of emergency for nearly two months, the Japanese capital has been in an intermediate state of "quasi-emergency" since June 21st, until July 11th. But Prime Minister Yoshihide Suga has made no secret of the fact that the state of emergency could be reinstated at any time, including during the Tokyo Games, if there was another outbreak of the pandemic.
On Wednesday June 23rd, Tokyo recorded 619 new infections in 24 hours, the highest number in about a month. On Tuesday, June 29th, 476 new cases were confirmed by local authorities.