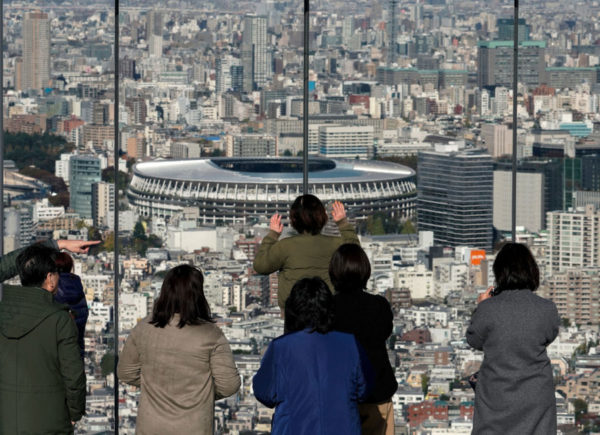 There is doubt anymore: the Tokyo Games will take place. The competitions will be held on the dates and at the times scheduled, and the programme will run from the first to the last day. The essential is saved. But apart from the official venues, the Japanese capital will not look like an Olympic city.
According to several sources, the organising committee has decided to reduce the number of events and activities initially planned along with Olympic events to a minimum. The ambitious event in Tokyo's Waterfront City district is expected to be one of the most affected by the measures to prevent the spread of COVID-19.
Originally, the organisers had planned to occupy public space with food stalls, official shops and activities dedicated to the Olympic and Paralympic disciplines. An Olympic walk was included in the plans. It was even decided to allow the public to watch the athletes' training sessions from secure areas. Waterfront City is hosting more than half a dozen sports or disciplines at the Tokyo Games, including climbing, 3×3 basketball, BMX freestyle and skateboarding. The area is also welcoming the Olympic flame cauldron.
With less than a month to go before the opening (D – 28 this Friday, June 25th), the organising committee is reportedly backing out. Forced to remove all the areas where social distancing could not be ensured, it would have decided to remove all the food stands from the map. The observation areas for the athletes' training are also threatened. They could be maintained, but with a reduced capacity for the number of spectators and the obligation to book a seat.
The Olympic flame cauldron is also on their radar. There is no question of extinguishing it, as this would be perceived as a form of renunciation. But according to Toshiro Muto, the general director of the organising committee, a system is currently being studied to avoid gatherings around the torch.
At the end of last week, the Tokyo's governor, Yuriko Koike, had started the movement by explaining that all public projections of the Games in the capital will be cancelled. The plan was to set up fan zones in Yoyogi, Inokashira and Hibiya parks.
Yuriko Koike said after an hour-long meeting with Japanese Prime Minister Yoshihide Suga that some of the venues where giant screen broadcasts of the Games were to be held will be turned into COVID-19 vaccination centres.
According to the Governor of Tokyo, the decision was made along with the Prime Minister.
Another target: the torch relay. The torch relay, which began in March, is due to reach Tokyo on July 9th. It will then travel in the capital until it arrives at the Olympic Stadium on Friday, July 23rd, during the opening ceremony.
At this stage of the preparations, the original route remains the same. But in a major change, spectators may be banned from the streets of Tokyo, along the course. A reasonable, even inevitable, precaution, but one with sad consequences.