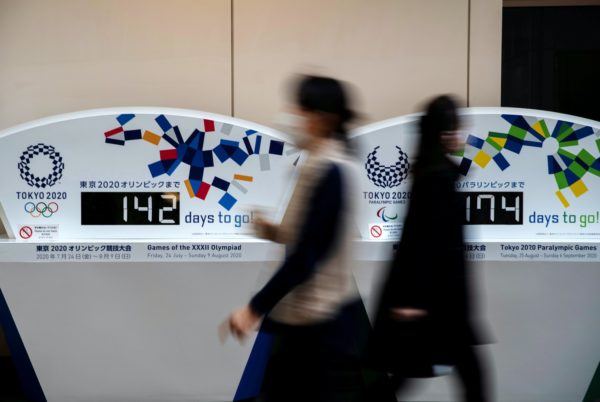 An important week in the preparation of the Tokyo Games. As the state of emergency entered into force for the third time in the Japanese capital on Sunday, April 25th, a summit meeting is scheduled for the next few days, presumably as early as Wednesday, April 28th. It should bring together the organising committee, the central government, the Tokyo authorities, the IOC, and the IPC. On the agenda, still the same subject: the health measures envisaged to fight against the spread of the coronavirus.
At the same time, the organisers plan to publish, also this week, the second version of the "playbooks", these practical guides for use by participants in the Games (athletes, officials, National Olympic Committees, media and broadcasters). They will be put online in two stages, Wednesday 28th then Friday 30th of  April.
No need to know how to read the lines of the hand to guess it: this second version will not provide for the slightest relaxation in the health protocol prepared by the Japanese organisers. It should even propose a toughening of the rules.
According to sources familiar with the matter, cited by Kyodo News, the Japanese government has taken the decision to ask athletes and other accredited participants (supervision, officials, media, etc.) from abroad to present two negative tests for COVID-19 before their departure for Japan.
In the first version of the "playbook", it was planned to require a single test, taken within 72 hours of departure for Japan. But the new wave of the pandemic, and the emergence of variants, have prompted Japanese authorities to reconsider their plans. Now you will have to submit two tests within four days (96 hours) before getting on the plane.
According to the same sources, participants in the Games will once again be tested as soon as they arrive on Japanese soil, even before leaving the airport.
Once there, anti-COVID tests on athletes will be multiplied. They will no longer be carried out every four days, as originally planned, but on a daily basis. This health measure will remain in effect for the first 14 days of their stay in Tokyo, or quarantine, during which time competitors will see their travel limited to trips between the village and the training and competition venues.
Other accredited individuals, including officials of the IOC, National Olympic Committees and international federations, as well as representatives of the media, will be tested daily during the first three days of their presence in Japan.
Thereafter, they will be checked at a lighter pace, every four or seven days, depending on their level of contact with the athletes. A form of quarantine, for them too, strict enough to avoid contact with the public (they will not be allowed to use public transportation), but flexible enough to allow them to work more or less normally as soon as they arrive at the Games.