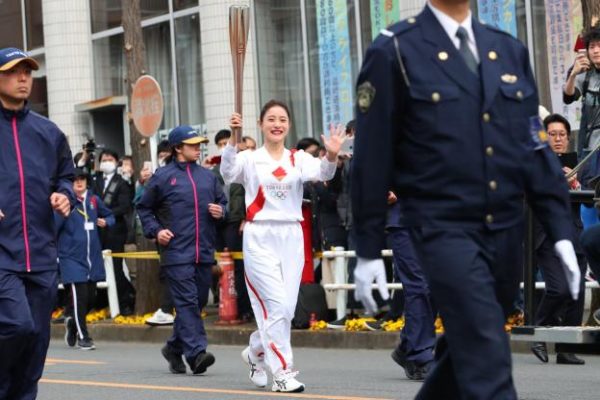 The Japanese organizers sensed it, but they had probably not taken the full measure : preparing for the Tokyo Olympics in a situation of health crisis is a constant headache. With each new drawer opened, an unforeseen problem arises. The subject of the moment demonstrates it. It concerns the Olympic torch relay.
According to a supposedly knowledgeable source, quoted by Kyodo News agency, the Japanese government is currently working on a new plan to organise the torch's route across the archipelago. It would be dictated by health precautions. With a course of action imposed by common sense : prevent the torch relay from turning into a hotbed of coronavirus infection moving from one prefecture to another. Logic.
Only problem, but of size : this plan will not please everyone. In question, the idea suggested by the Japanese authorities to exclude from the relay all the national celebrities, singers and actors in mind, likely to attract the large crowd along the route. And even, worse still, provoke scenes of jubilation where respect for social distancing could be shattered.
The intention is commendable. The Japanese government is not motivated by health considerations alone. He also thinks of his wallet. According to an agreement reached last week with the Games' Organizing Committee and the Tokyo Metropolitan Government, it will pay the largest share ($500 million) of spending related to measures planned next year to fight the spread of the virus.
But the other participants in this game of three-cushion billiard are already grimacing. The organizing committee, in particular, fears seeing its relay shunned by the population, at a time of preparation for the Olympics when it is stepping up initiatives to awaken the enthusiasm of the Japanese for the Olympic event.
In the municipalities crossed by the course of the flame, the prospect of having to revise downwards the list of torchbearers is also controversial. "We want the celebrities to run on behalf of the people in our region, it is unthinkable to reorganize all participation in the relay, said a representative of a local government, interviewed by Kyodo News. Also, I don't know where to draw the line as to who is a celebrity."
Also according to the Japanese news agency, the former Olympic athletes selected for the relay would receive preferential treatment. Their notoriety would not deter them from the torch course, but their presence in the relay would be surrounded by a luxury of precautions.
Another bone of contention is the government's plan to ban private torch relay partners from distributing gifts and merchandise to the crowd. It follows the same logic of preventing the spread of the virus.
But Tokyo Games organizers will find it difficult to demand that their sponsors put their communications plan on hold, even though they are helping to fund the operation. A puzzle. One more.